Just before Christmas, Mo and I headed down to the old quarry town of Proctor, located in the Vermont Valley just outside Rutland. While the heyday has come and gone, the quiet town is now home to the Vermont Marble Museum. Old abandoned quarries and an amazing mill next to the dam. It's part of a line of limestone/marble quarries that runs, well pretty much down the east cost down into the great caving belt in Kentucky. Mo's done a lot of cave exploration and I recently have been to a few, all in limestone. A lot of excavations – whether as a quarry or road cut – exposed old cavernous fractures in rock, slowly etched away by acidic rain water. These hidden caverns are called karst topography, which I wrote about previously.
Because the substrate – rock and cement here as there's basically no soil – is so rich in nutrients from the limestone, moss readily grows on the concrete slabs and inside of the old mill, which is empty of its former occupation and currently used as storage for RVs and boats.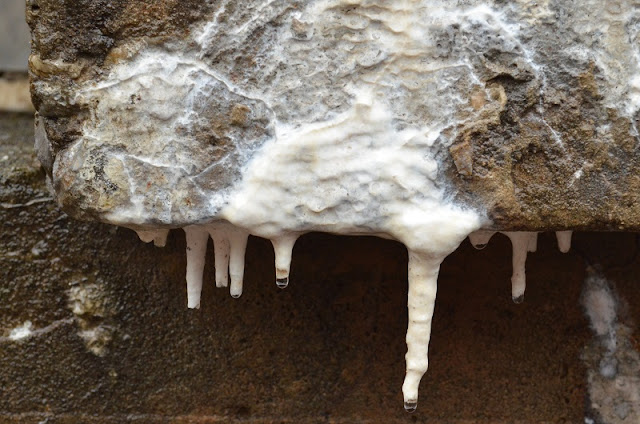 The water weaves intricate patterns on concrete structures. The acidity of the rain draws out calcareous elements, slowly depositing them in fissures and grooves, and along the bottoms of tiny ledges.
Marble floor tiles with a paper birch emerging from the ruins
It is one of the strangest places I've ever been. The town was swimming in marble. And the built everything out of it. Even in the crappy little office in the image above the floor tiles were decadently made out of marble. As with the moss, the calcium rich substrate allows trees to grow in odd places and deal more readily with shade that would otherwise stress them too much to allow them to grow. In the above photos there's a birch tree growing between tiles and we found them growing throughout the building and on the roof.
The bedrock geology map below shows the town of Proctor composed of and surrounded mostly by north-south running bands of dolostone and marbles. These are the same rocks that jut out along the cliffy edge of Lake Champlain.